The APAM Department publishes a bi-annual newsletter featuring the accomplishments of our esteemed faculty, researchers, and students. Alumni are also encouraged to submit their news by sending a message to [email protected].
Fall 2020 Newsletter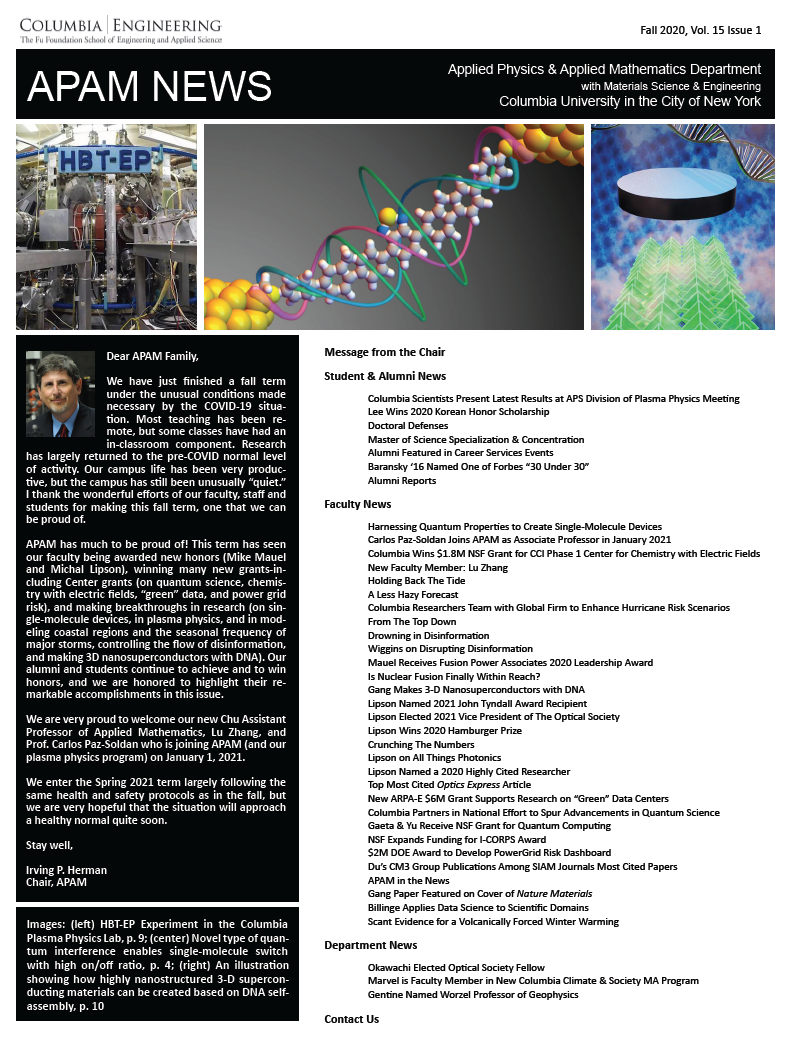 Fall 2020 - APAM Department Newsletter, Columbia Engineering

Message from the Chair:
Dear APAM Family,
We have just finished a fall term under the unusual conditions made necessary by the COVID-19 situation. Most teaching has been remote, but some classes have had an in-classroom component. Research has largely returned to the pre-COVID normal level of activity. Our campus life has been very productive, but the campus has still been unusually "quiet." I thank the wonderful efforts of our faculty, staff and students for making this fall term, one that we can be proud of.
APAM has much to be proud of! This term has seen our faculty being awarded new honors (Mike Mauel and Michal Lipson), winning many new grants-including Center grants (on quantum science, chemistry with electric fields, "green" data, and power grid risk), and making breakthroughs in research (on single-molecule devices, in plasma physics, and in modeling coastal regions and the seasonal frequency of major storms, controlling the flow of disinformation, and making 3D nanosuperconductors with DNA). Our alumni and students continue to achieve and to win honors, and we are honored to highlight their remarkable accomplishments in this issue.
We are very proud to welcome our new Chu Assistant Professor of Applied Mathematics, Lu Zhang, and Prof. Carlos Paz-Soldan who is joining APAM (and our plasma physics program) on January 1, 2021.
We enter the Spring 2021 term largely following the same health and safety protocols as in the fall, but we are very hopeful that the situation will approach a healthy normal quite soon.
Stay well,
Irving P. Herman
Chair, APAM