The APAM Department publishes a bi-annual newsletter featuring the accomplishments of our esteemed faculty, researchers, and students. Alumni are also encouraged to submit their news by sending a message to [email protected].
Spring 2022 Newsletter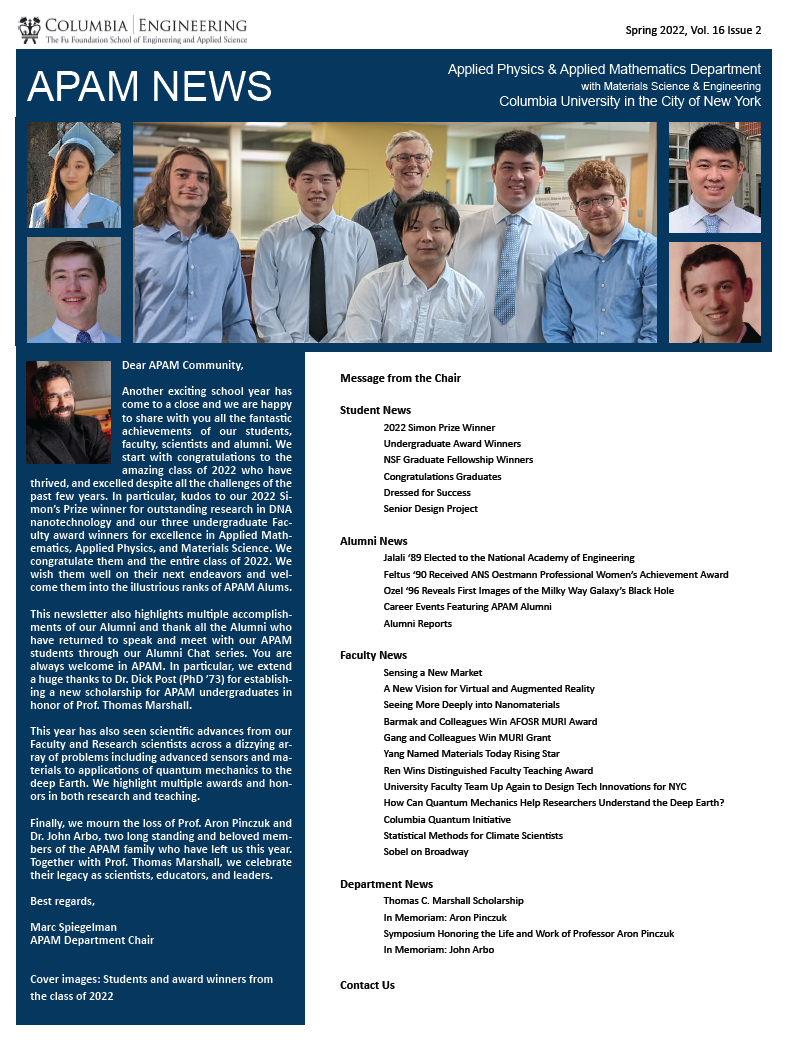 Spring 2022 - APAM Department Newsletter, Columbia Engineering (pdf)

Message from the Chair:
Dear APAM Community,
Another exciting school year has come to a close and we are happy to share with you all the fantastic achievements of our students, faculty, scientists and alumni. We start with congratulations to the amazing class of 2022 who have thrived, and excelled despite all the challenges of the past few years. In particular, kudos to our 2022 Simon's prize winner for outstanding research in DNA nanotechnology and our three undergraduate Faculty award winners for excellence in Applied Mathematics, Applied Physics and Materials Science. We congratulate them and the entire class of 2022. We wish them well on their next endeavors and welcome them into the illustrious ranks of APAM Alums.
This newsletter also highlights multiple accomplishments of our Alumni and thank all the Alumni who have returned to speak and meet with our APAM students through our Alumni Chat series. You are always welcome in APAM. In particular, we extend a huge thanks to Dr. Dick Post (Ph.D '73) for establishing a new award for APAM undergraduates in honor of Prof. Thomas Marshall.
This year has also seen scientific advances from our Faculty and Research scientists across a dizzying array of problems including advanced sensors and materials to applications of quantum mechanics to the deep Earth. We highlight multiple awards and honors in both research and teaching.
Finally, we mourn the loss of Prof. Aron Pinczuk and Dr. John Arbo, two long standing and beloved members of the APAM family who have left us this year. Together with Prof. Thomas Marshall, we celebrate their legacy as scientists, educators, and leaders.
Best,
Marc Spiegelman
Chair of the Department of Applied Physics and Applied Mathematics, Columbia Engineering
Professor of Applied Physics and Applied Mathematics
Arthur D. Storke Memorial Professor of Earth and Environmental Sciences