The APAM Department publishes a bi-annual newsletter featuring the accomplishments of our esteemed faculty, researchers, and students. Alumni are also encouraged to submit their news by sending a message to apam@columbia.
Spring 2020 Newsletter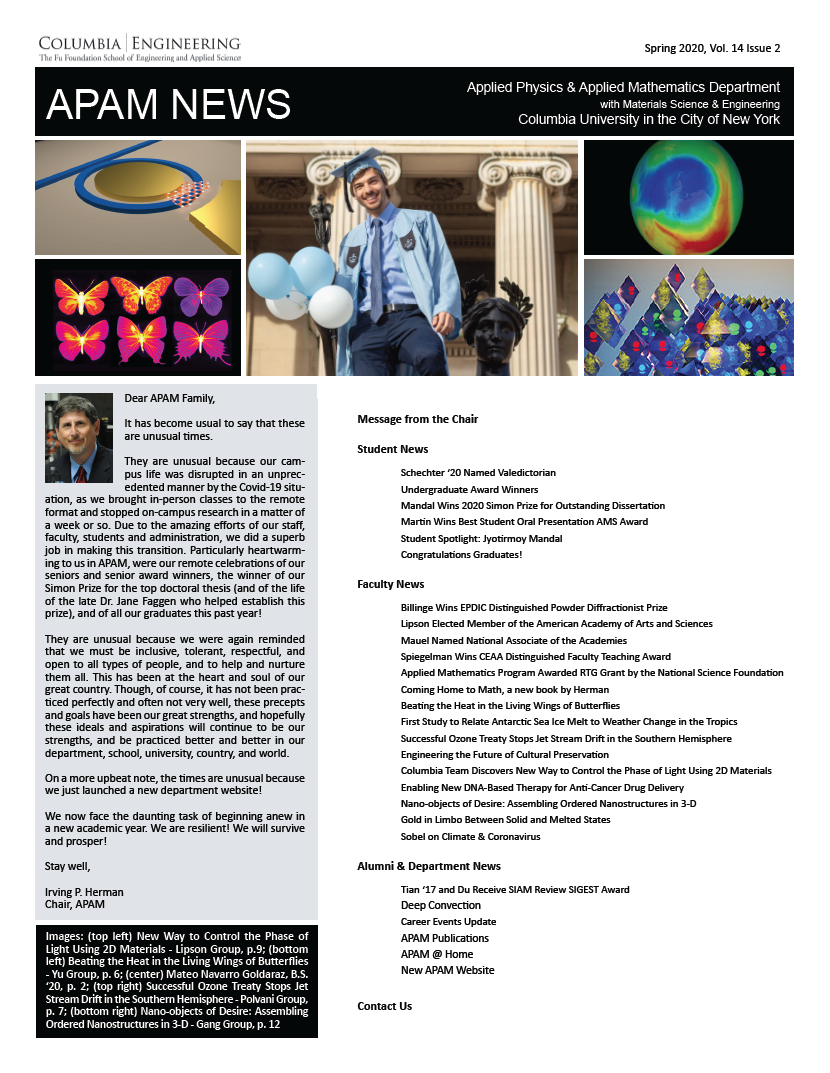 Spring 2020 - APAM Department Newsletter, Columbia Engineering

Message from the Chair:
Dear APAM Family,
It has become usual to say that these are unusual times.
They are unusual because our campus life was disrupted in an unprecedented manner by the Covid-19 situation, as we brought in-person classes to the remote format and stopped on-campus research in a matter of a week or so. Due to the amazing efforts of our staff, faculty, students and administration, we did a superb job in making this transition. Particularly heartwarming to us in APAM, were our remote celebrations of our seniors and senior award winners, the winner of our Simon Prize for the top doctoral thesis (and of the life of the late Dr. Jane Faggen who helped establish this prize), and of all our graduates this past year!
They are unusual because we were again reminded that we must be inclusive, tolerant, respectful, and open to all types of people, and to help and nurture them all. This has been at the heart and soul of our great country. Though, of course, it has not been practiced perfectly and often not very well, these precepts and goals have been our great strengths, and hopefully these ideals and aspirations will continue to be our strengths, and be practiced better and better in our department, school, university, country, and world.
On a more upbeat note, the times are unusual because we just launched a new department website!
We now face the daunting task of beginning anew in a new academic year. We are resilient! We will survive and prosper!
Stay well,
Irving P. Herman
Chair, APAM