Fall 2022 Newsletter
Jan 20 2023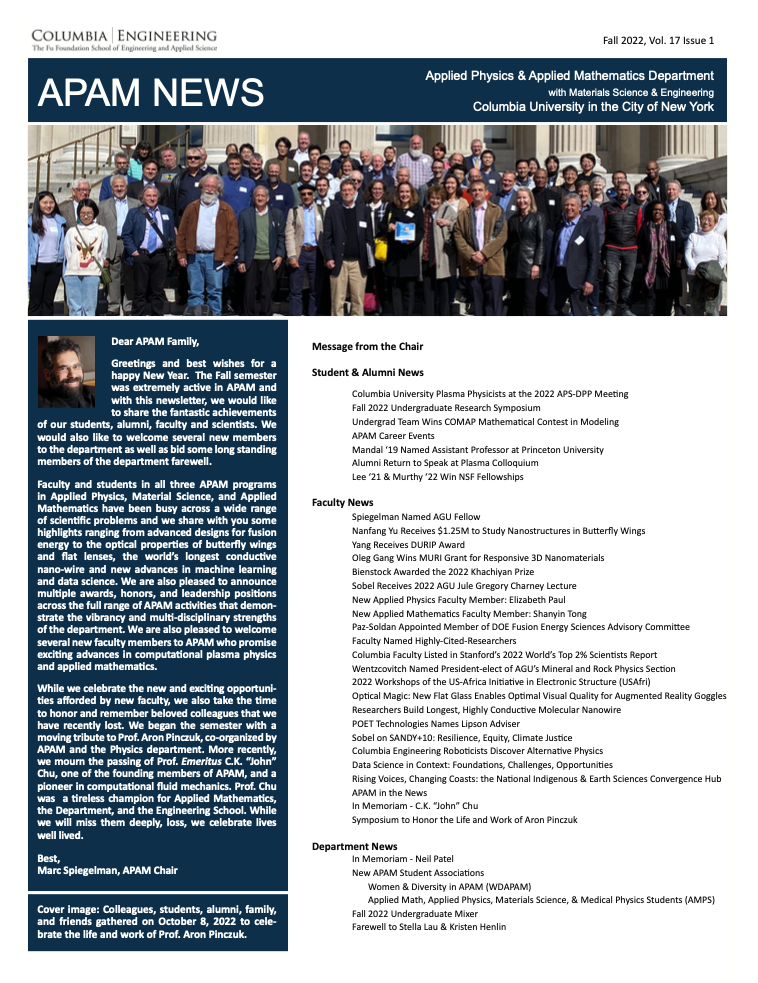 Greetings and best wishes for a happy New Year. The Fall semester was extremely active in APAM and with this newsletter, we would like to share some of the fantastic achievements of our students, alumni, faculty and scientists. We would also like to welcome several new members to the department as well as bid some long-standing members of the department farewell.

Faculty and students in all three APAM programs: Applied Physics, Materials Science, and Applied Mathematics have been working across a wide range of scientific problems and we share with you some highlights including advanced designs for fusion energy, optical properties of butterfly wings and flat lenses, the world's longest conductive nano-wire and new advances in machine learning and data science. We are proud of these achievements and the vibrancy and multi-disciplinary strengths of the department are reflected in multiple awards, honors, and leadership positions across the full range of APAM activities. We are also pleased to welcome several new faculty members to APAM who promise exciting new advances in computational plasma physics and applied mathematics.

While we celebrate the important opportunities afforded by new faculty, we also take the time to honor and remember beloved colleagues that we have recently lost. We began the semester with a moving tribute to Prof. Aron Pinczuk, co-organized by APAM and the Physics department. More recently, we mourn the passing of Prof. Emeritus C.K. "John" Chu, one of the founding members of APAM, and a pioneer in computational fluid mechanics. Prof. Chu was a tireless champion for Applied Mathematics, the Department, and the Engineering School. While we will miss them deeply, we celebrate lives well lived.
Marc Spiegelman
Chair, Department of Applied Physics and Applied Mathematics
Arthur D. Storke Memorial Professor of Earth and Environmental Sciences and
Professor of Applied Physics and Applied Mathematics
Contact us
We would love to hear from you! Please send your news to [email protected]
Applied Physics & Applied Mathematics (APAM) Department
Fu Foundation School of Engineering & Applied Science (SEAS)
Columbia University in the City of New York
500 W. 120th Street, Room 200 Mudd, MC 4701
New York, NY 10027