Fall 2021 Newsletter
Jan 14 2022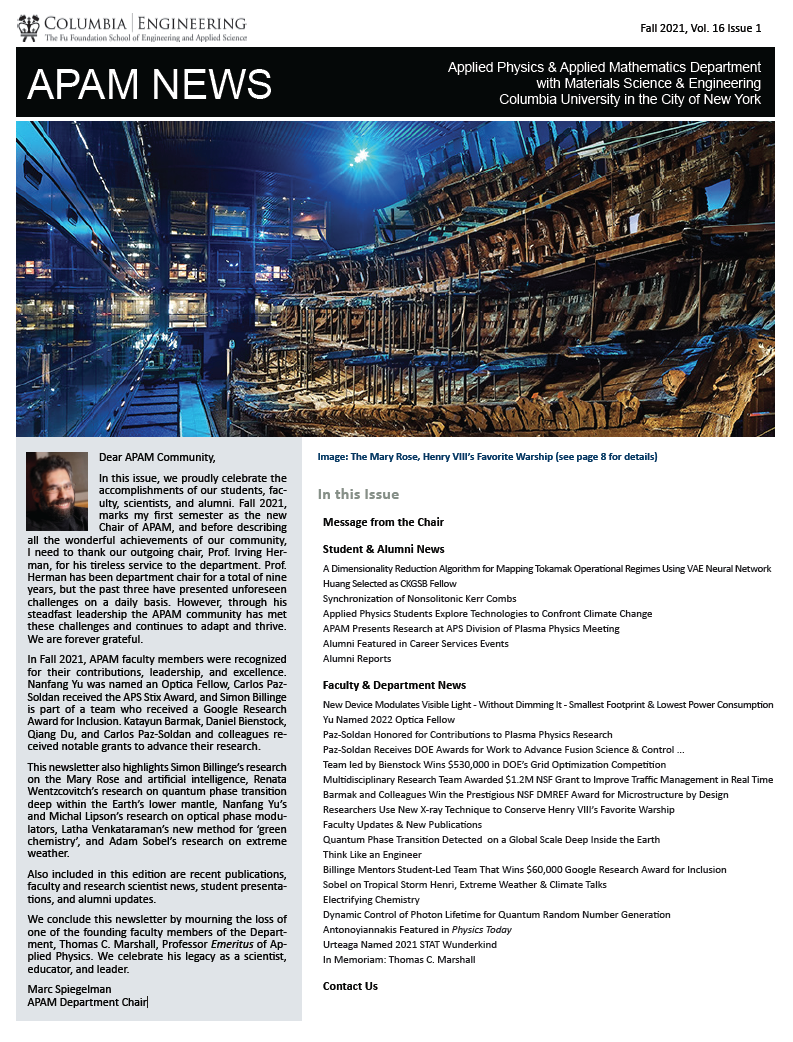 Letter from the Chair
Dear APAM Community,
In this issue, we proudly celebrate the accomplishments of our students, faculty, scientists, and alumni. Fall 2021 marks my first semester as the new Chair of APAM, and before describing all the wonderful achievements of our community, I need to thank our outgoing chair, Prof. Irving Herman, for his tireless service to the department. Prof. Herman has been department chair for a total of nine years, but the past three have presented unforeseen challenges on a daily basis. However, through his steadfast leadership the APAM community has met these challenges and continues to adapt and thrive. We are forever grateful.
In Fall 2021, APAM faculty members were recognized for their contributions, leadership, and excellence. Nanfang Yu was named an Optica Fellow, Carlos Paz-Soldan received the APS Stix Award, and Simon Billinge is part of a team who received a Google Research Award for Inclusion. Katayun Barmak, Daniel Bienstock, Qiang Du, and Carlos Paz-Soldan and colleagues received notable grants to advance their research.
This newsletter also highlights Simon Billinge's research on the Mary Rose and artificial intelligence, Renata Wentzcovitch's research on quantum phase transition deep within the Earth's lower mantle, Nanfang Yu's and Michal Lipson's research on optical phase modulators, Latha Venkataraman's new method for 'green chemistry', and Adam Sobel's research on extreme weather.
Also included in this edition are recent publications, faculty and research scientist news, student presentations, and alumni updates.
We conclude this newsletter by mourning the loss of one of the founding faculty members of the Department, Thomas C. Marshall, Professor Emeritus of Applied Physics. We celebrate his legacy as a scientist, educator, and leader.
Marc Spiegelman
APAM Department Chair