S. Perry Schlesinger (1918-1996)
Professor Emeritus of Electrical Engineering and Applied Physics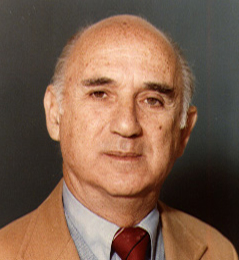 S. Perry Schlesinger, former chairman of the Electrical Engineering Department at Columbia University, who helped develop the free electron laser now used in surgery and other applications, died Monday (July 22, 1996) in Presbyterian Hospital. He was 77 and lived in Manhattan.
The cause of death was lung cancer, said his wife, Ziporah.
During 31 years as a professor of electrical engineering at Columbia, Dr. Schlesinger conducted fundamental research in plasma physics, electromagnetics and microwaves. In the 1970's, in collaboration with the Naval Research Laboratories, he and Thomas Marshall of Columbia developed the very high power Raman free electron laser. The device, because its wavelength can be fine tuned, is used today in precise tissue and bone surgery and in high-resolution radar.
A member of both the Electrical Engineering and Applied Physics Departments at Columbia, Dr. Schlesinger joined the University in 1956, served as chairman of the Electrical Engineering Department from 1980 to 1983, and was named an Emeritus Professor in 1987. He was the author or co-author of more than 60 articles in scientific publications and was a life fellow of the Institute of Electrical and Electronics Engineers.
The Columbia scientist was also a clarinetist who played with the Riverside Orchestra in New York and served as personnel manager of the organization.
Dr. Schlesinger was born in New York City Oct. 9, 1918, earned the B.A. at Michigan State University in 1941 and joined the Navy, becoming a destroyer engineer officer during World War II. He received a certificate from the U.S. Naval Academy Post Graduate School in 1946, taught engineering at Union College and earned a master's degree there in 1950. The Johns Hopkins University awarded him the doctorate in engineering in 1957.
Besides his wife, he is survived by his son, Richard, of Baltimore, and his daughter, Joanna Grimm of Cleveland; two stepchildren, Arnon Sadeh of Israel and Orna Kaplan of Tenafly, N.J., and 11 grandchildren. Memorial donations may be sent to the Riverside Orchestra, c/o Ephraim Rubin, 24 W. 96th St., New York, N.Y. 10025.
Fred Knubel, Director
Office of Public Information and Communications Columbia University
July 24, 1996