Nanfang Yu Elected an Optica Fellow
Yu recognized for his pioneering research in controlling light using nanostructured low-dimensional materials
Dec 10 2021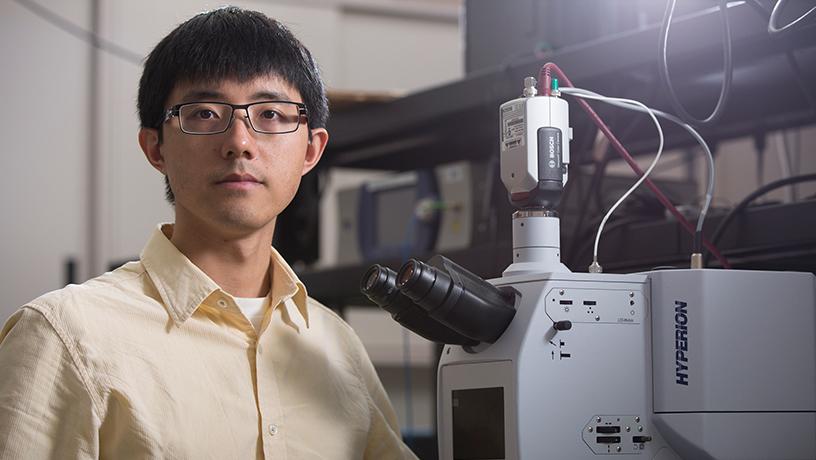 Nanfang Yu, associate professor of applied physics and applied mathematics, was recently elected an 2022 Optica Fellow for his invention and development of metasurfaces, nanostructured flat optical devices, and how they can be used for imaging and cooling. Yu is a pioneer in the study of the interaction between light and structured materials at the nanometer scale, research that has already led to novel devices including flat lenses, planar holograms, miniature modulators, and other devices for processing light. He has even applied biomimicry to his work, exploring, for example, how the ability of the Saharan silver ants to survive the searing desert sun could be used to create a cool-roof coating that can be applied like paint.
Yu's lab conducts experimental research on "flat optics," which are nanostructured low-dimensional materials that can manipulate light in previously unimaginable ways. His group envisions replacing conventional bulky optical devices and systems with much smaller, flat counterparts. His research focuses on three themes: metasurfaces, which are engineered 2D metamaterials that control light waves propagating in free space; integrated photonics, where light propagating within a chip is controlled by nanostructured waveguides; and biophotonics, where his lab uses optics to gain understanding of the life history of living organisms and creates bio-inspired optical nanomaterials to regulate solar absorption and thermal radiation.
Yu is one of 106 members selected from 24 countries for this honor, based on their distinguished contributions to education, research, engineering, business, and community service. Optica, the former Optical Society of America, advances optics and photonics worldwide, while delivering high-quality scientific and technical information.