Data, Truth, and Power: A Discussion with Chris Wiggins and Matthew Jones
Columbia professors and co-authors dive into "How Data Happened: A History from the Age of Reason to the Age of Algorithms" at recent book launch and panel discussion.
Apr 13 2023 | By Beatrice Mhando | Photo Credit: Timothy Lee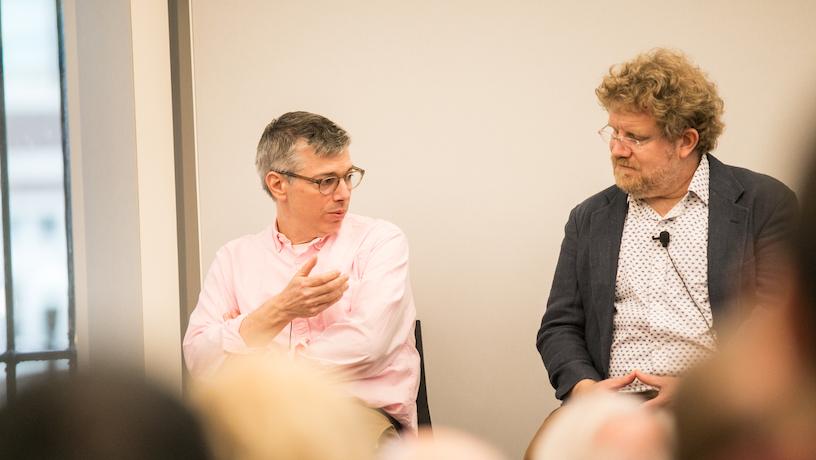 Despite the rain pouring down on a Monday afternoon, the atmosphere inside Columbia's Brown Institute for Media Innovation was nothing short of electric. Data enthusiasts of all ages engaged in spirited conversations, eagerly awaiting a panel on Mar. 27 with Chris Wiggins and Matthew Jones. The discussion centered around their new book, How Data Happened: A History from the Age of Reason to the Age of Algorithms. The book, an extension of their popular class, "Data: Past, Present and Future", offers not only a comprehensive analysis of the development of data, but also delves into its significant impact on our political and personal lives, from shaping our understanding of truth to redefining our political landscape.
The book's genesis can be traced back 10 years when Chris Wiggins, an associate professor of applied mathematics at Columbia Engineering, attended a lecture by Matthew Jones, James R. Barker Professor of Contemporary Civilization at Columbia, on the history of machine learning. "I was very intrigued, in part because I was working in machine learning, but I wasn't trained as a machine learner," Wiggins shared during the panel, moderated by renowned data journalist Julia Angwin. "So I went to his lecture, which was great. And then, the summer after that, we ended up - thanks to Mark Hansen and friends here [at the Journalism School] - teaching a class together in 2014."
The class, which commenced three years after their collaboration began, aimed to foster digital capabilities by incorporating data and computer science into other disciplines. "We came together and tried to create a class that would appeal at once to students coming from technical backgrounds or students coming from more humanistic backgrounds," Jones explained. "And really, that class has developed from a small seminar to a large lecture and eventually became the foundation for the book."
While it is widely believed that data is an unbiased, objective numerical tool, Wiggins and Jones challenge this notion by using history to illustrate how data wields considerable power in shaping our perception of the absolute truth. "It was a realization for me, and I think for many other technologists over the last, let's say, six or seven years, that data and data science rearranges power," Wiggins acknowledged. "Something we've talked about in class is how much of the history was shaped by people who had some interest, created some new capabilities, and every one of those capabilities rearranged power."
"We begin the book at the end of the 18th century because that's when there's an explosion of the idea that somehow numerical data is more reliable; it might be more appropriate for understanding not just the natural world, like the movement of planetary bodies, but the economic world, the social world, the political world," Jones added. "And the explosion of that idea, from the 19th century to the present, is one of the great transformations in how we even understand the world."
The book encourages readers to become critical thinkers when it comes to data by understanding how it is embedded in particular power dynamics that affect our daily lives, such as socio-economic relationships.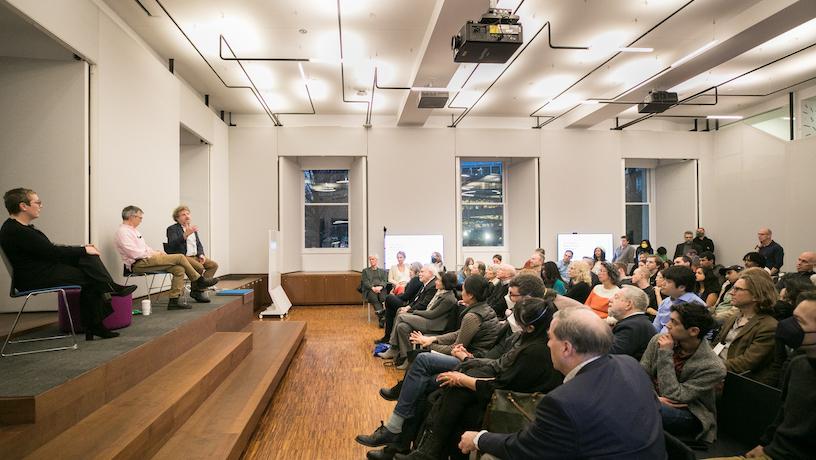 "Data comes from a Latin word that means 'to give'," said Wiggins, "and I liked the fact that it means given, because it speaks to the way that data doesn't really invite critique, right?"
Rather than presenting data as merely quantitative versus qualitative, the authors explore the inherent "unquestioned truthiness" people often associate with numbers and the belief that having numbers makes an argument more valid than one without them.
"We want to invite people to question by looking at things historically," Wiggins said. "Part of what the book poses is: How do we maintain some critical abilities around data?"
Following the thought-provoking panel discussion, Wiggins and Jones participated in a lively question-and-answer session with an enthusiastic and packed audience. Afterwards, the two authors signed copies of their new book, leaving attendees inspired and eager to dive into its pages.
About Chris Wiggins
Wiggins is the chief data scientist at The New York Times, since 2014, and a founding member of Columbia's Data Science Institute; his research applies machine learning to computational biology.
About Matthew Jones
Jones studies the history of science and technology, focusing on early modern Europe and on recent information technologies.