Alumnus Establishes New Scholarship for Undergraduates in Tech, Entrepreneurship
Bahram Jalali aims to encourage next generation of innovators.
Nov 09 2023 | By Katie Luna
A lifelong, devoted academic, Bahram Jalali ('86, '87, '89) has always understood the importance and impact of higher education.
Fueled by his own experiences as a lifelong student, a professor, and an entrepreneur, Jalali was inspired to establish a new scholarship at Columbia Engineering: the Jalali Ruminate Scholarship. This scholarship is intended to fund financial aid efforts to support undergraduate students studying industrial engineering and operations research (IEOR), computer science, and applied physics and applied mathematics.
The first scholar, Manasa (Hari) Bhimaraju, named during the 2022-2023 academic year, is a junior studying IEOR and computer science. Bhimaraju's academic interests include technology, consulting, entrepreneurship, health tech, and sustainability.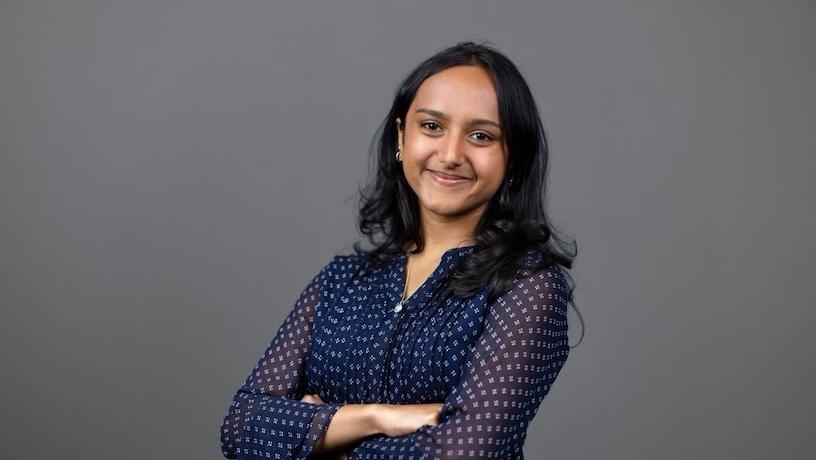 Endowed financial aid like the Jalali Ruminate Scholarship ensures that talented students like Bhimaraju can attend Columbia regardless of financial considerations, allowing students from many backgrounds to come to Columbia and engage with the rigorous curriculum, innovation ecosystem, and leadership development opportunities without fiscal pressure.
Jalali finds inspiration for his scientific and entrepreneurial endeavors in a quote attributed to Mark Twain: "Twenty years from now you will be more disappointed by the things that you didn't do than by the ones you did do. So throw off the bowlines. Sail away from the safe harbor. Catch the trade winds in your sails. Explore. Dream. Discover." In this same spirit of exploration, Jalali expressed his strong desire to support future engineers to explore, dream, and discover new fields, interests, and innovations through the Jalali Ruminate Scholarship.
Jalali's road to Columbia Engineering and beyond
Jalali began his academic studies at Florida State University, where he earned a B.S. in physics in 1984. He went on to receive his M.S. in applied physics from Columbia Engineering in 1986, followed by his MPhil in applied physics in 1987 and his PhD in applied physics and nuclear engineering in 1989. Following graduation, he joined the physics research division at Bell Laboratories from 1988 to 1992. In 1993, Jalali went on to join the faculty at UCLA, and became a trailblazing researcher in the fields of silicon photonics and scientific instruments. During this time, his laboratory pioneered two qualitatively new approaches to imaging: the Time Stretch camera and the radio frequency fluorescent camera. These novel imaging technologies generated new applications in cell biology and diagnostics and the discovery of ultrafast laser phenomena.
A renowned researcher and entrepreneur, Jalali holds 32 U.S. patents and 11 foreign patents, and his novel innovations have led to the foundation of three successful startups. He is a member of the National Academy of Engineering and the National Academy of Inventors.