MSE Students Visit American Museum of Natural History
Sep 08 2012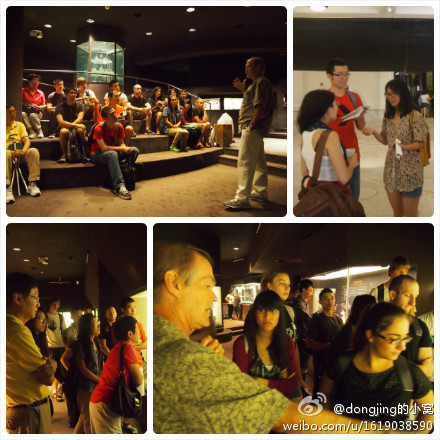 Prof. Siu-Wai Chan and a group of 20 MSE students visited the American Museum of Natural History on September 7, 2012. The event was sponsored by Columbia's Material Advantage and MRS Student Chapters.
Dr. George Harlow, Curator and Professor of Physical Sciences, Earth & Planetary Sciences, gave the students a tour of the minerals collections and presented 45-minute talk on the formation of jade and geological locations.
Dr. Harlow spent five years creating and curating the Museum's The Nature of Diamonds exhibition, which toured the United States and abroad. He studies feldspars, amphiboles, pyroxenes, micas, and other rock-forming minerals, exploring their crystal chemistry to interpret the record of events stored in them and the rocks of which they are a part.
With his research associates, Dr. Harlow is conducting a long-term study of jadeite rock (jadeitite). The project grew out of questions about the origin of the emerald-green color in jadeite rocks. Fieldwork has been carried out in central Guatemala since 1984, and in northern Myanmar in 2000. The most significant finding so far has been the discovery that jadeitites are produced by crystallization from an aqueous fluid in fractures in serpentinite at depth, rather than by replacement of pre-existing rock inclusions. More expeditions to Guatemala and Myanmar are planned through 2002, along with possible visits to deposits in Kazakhstan and Siberia.
With support from the National Science Foundation, Dr. Harlow is currently studying the crystal chemistry of minerals at high pressures to try to understand how large, low-charge ions are incorporated and preserved in Earth's upper mantle. This project was inspired by observations of high potassium content in clinopyroxene inclusions in diamonds. As the role and history of potassium and other large-ion lithophile elements in Earth's differentiation is an important issue, potential incorporation into mantle clinopyroxene and other minerals is very significant.
While laying the groundwork for a jadeitite expedition, Dr. Harlow traveled to the Mogok Stone Tract, Mandalay District, Myanmar, in 1998, which led to a study of the origin of the minerals of this world-famous source of rubies, sapphires, and other gems. Other field expeditions have yielded significant collections from a nephrite/diopside deposit in California and xenoliths from South Africa and Lesotho.