In Memoriam: Edward L. Nickoloff (1942-2019)
Mar 13 2019 | By Originally published in The Journal News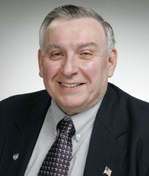 A long time affiliated faculty member of the Medical Physics Program, Dr. Edward L. Nickoloff, from Orangeburg, NY, passed away on March 11, 2019 after a long illness.
Dr. Nickoloff was born in Harrisburg, PA and attended Central Dauphin High School, Carnegie Tech, Lebanon Valley College, the University of New Hampshire, where he received a Master's of Science degree, and the John Hopkins School of Public Health, where he received a Doctor of Science degree with Distinction in 1977.
Dr. Nickoloff was an Emeritus Professor of Radiology at the Columbia University College of Physicians and Surgeons and Chief Hospital Physicist at the Columbia University Medical Center for 33 years. He had lectured extensively at scientific conferences across the country; wrote two books on the subject of Radiation Physics - one of which was used extensively in Radiology Residency programs across the USA; published 150 journal articles, 57 peer reviewed journal articles, and 87 abstracts; and held 24 offices in professional organizations.
He is survived by his wife of 35 years, Diane (Zambetti); daughter, Andrea; son, Edward Jr., and daughter-in-law, Katarina. He was an avid reader, Jack of all trades, and outdoorsman.