Feltus '90 Received ANS Oestmann Professional Women's Achievement Award
Jan 20 2022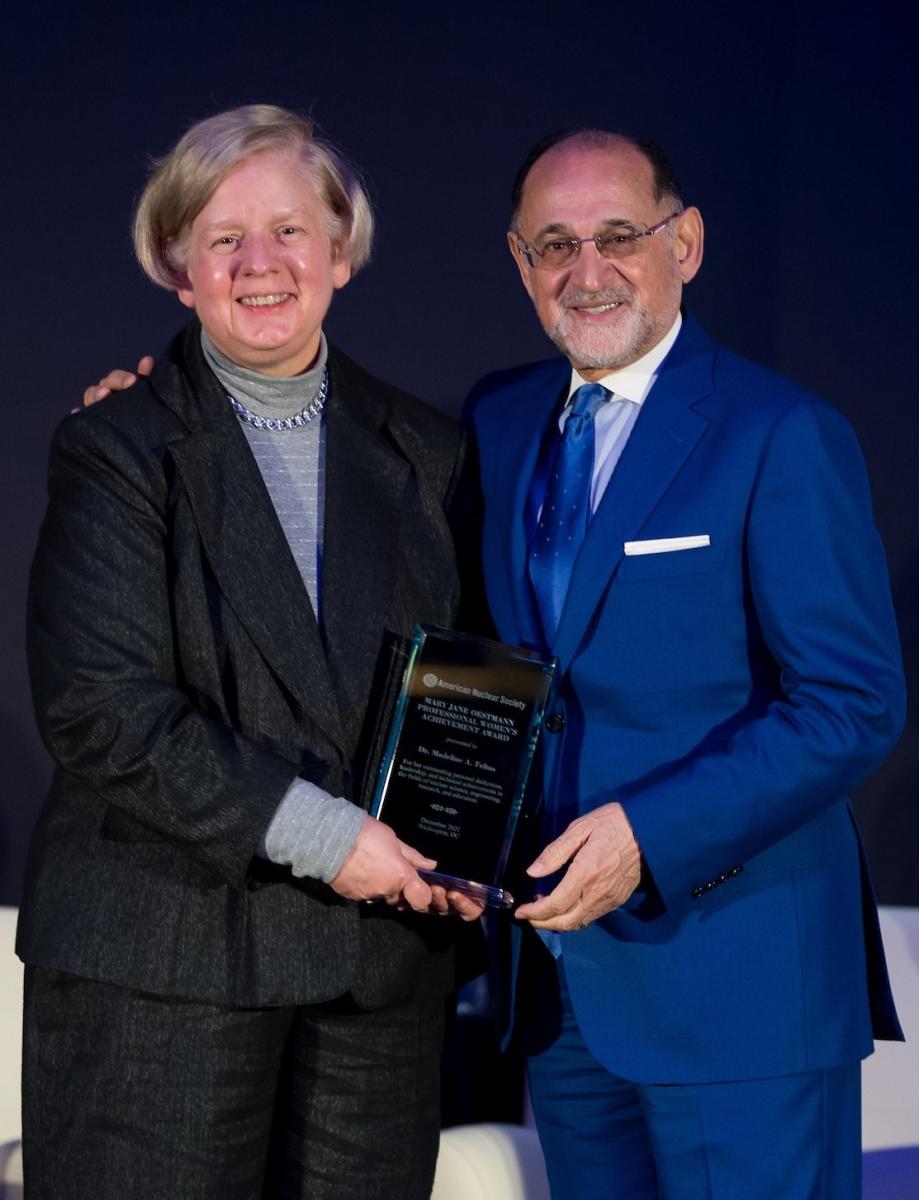 Washington D.C. - Dr. Madeline Feltus (BS '77, PhD '90, Nuclear Engineering) received the Mary Jane Oestmann Professional Women's Achievement Award from the American Nuclear Society (ANS) on December 1, 2021. The award was presented during the organization's annual winter meeting today in Washington D.C. and recognizes outstanding achievements by women in the fields of nuclear science, engineering, research, or education. She was recognized for "her outstanding personal dedication, leadership, and technical achievements in the fields of nuclear science, engineering, research, and education."
Dr. Feltus is an accomplished nuclear engineer with the U.S. Department of Energy's Office of Nuclear Energy. She joined the Department in 1999 and has led several research and development programs to support projects focused on sustaining the current fleet of U.S. reactors and developing new advanced reactors and fuels. She most recently led the TRISO fuels development and qualification program which resulted in the first TRISO fuels licensing topical report submission to the U.S. Nuclear Regulatory Commission in 2020.
Prior to DOE, she was a professor at Penn State University for 8 years and earlier worked 14 years in the nuclear industry. Dr. Feltus has four nuclear engineering degrees from Columbia University and published 18 referred journal articles, written and presented many conference papers and technical reports, over her illustrious 44-year career.  Dr. Feltus served on the ANS Nuclear Technology journal editorial board for 16 years and continues to review manuscripts for several technical journals.
"I feel very honored to receive the ANS Oestmann Award," said Dr. Feltus, "My nuclear engineering career has allowed me to grow technically, teach, and now to enjoy leading research and development work for DOE."
Dr. Feltus received a $1,000 monetary award and an engraved plaque for her achievements.
Photo: Dr. Madeline Feltus and Dr. Hashemian, chair of the ANS honors and awards committee