Billinge Featured in MRS Bulletin
Jul 13 2010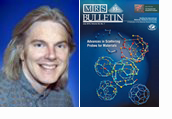 Simon Billinge, Professor of Materials Science and Engineering in the APAM Department at Columbia University, and Paul Evans, Associate Professor of Materials Science and Engineering at the University of Wisconsin- Madison, were guest editors and wrote the introductory article for the July 2010 issue of MRS Bulletin on "Advances in Scattering Probes for Materials".
This issue discusses developments in structural, imaging, and dynamic probes of materials based on x-ray, neutron, and electron scattering. The cover shows examples of intermediate clusters that were found by the novel LIGA algorithm during the discovery of a successful structure solution of a C60 molecule from neutron pair distribution function data. This was the first example of an ab initio nanoparticle structure solution from neutron (or x-ray) diffraction data.
Cover image courtesy of Pavol Juhas, Marlene Cameron, and Simon Billinge.